Some places stick in your memory even decades after you've been there. There's magic in their atmosphere, or good fairies floating in their mirrors, or memorable scents in their soaps that bring serenity on a visit. No matter how far away I get, these are the places to which I always want to return: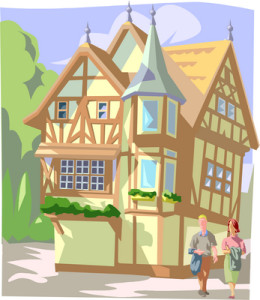 The Red Victorian, Haight Street, San Francisco
Following a business trip in Palo Alto years ago, I found some peace at the Red Victorian on Haight Street over a long weekend. My memory pales now, but I'm pretty sure I stayed in the rainbow room. After hanging out and having some tea on the first floor or walking the streets of San Francisco, I enjoyed cleaning up in the aquarium bathroom (every time you flush, it looks like the fish tank hovering over the toilet is flushing, too) and washing away the street grime with divinely scented soaps. Everyone should go there at least once, whether they grew up in the '60s or not.
Island City Guest House, Key West
I'm not sure I how I found Island City Guest House, but I found a bit of myself when I got there. Staying in the Arch House, one of three buildings on the property, I just wanted to rest on the balcony and look over this tropical paradise forever. I'd traveled alone before, but this was the first place I'd gone for a weeklong getaway all by myself. There weren't any museums or other sites to distract me. I found peace in the old carriage house, built in 1880.  There, on my little balcony, in this place, I learned that I could be with myself—and enjoy the time.  I don't know whether you can still get some good Cuban coffee around the corner on Eaton Street, but I'd like to go back to find out.
Hotel Tabard Inn, N Street Northwest, Washington, D.C.
The first time I walked back into time at the Tabard Inn was on a snowy day where I lounged before the fire drinking brandy, or possibly Irish coffee. The old w.c. off the lounge was still accessible then, and I luxuriated in the sounds of the fire, the voices, the clinking of cups coming from the other side of the door when I used it. I love to return to this creaky, history-filled, 1880s townhouse whenever I return to the District of Columbia. Through it, I can imagine a time when Washington featured dirt roads, when Abraham Lincoln rode a horse through its streets, when Clover Adams charmed the place before drinking photograph developer to kill herself. The capital might be haunted, but only good spirits remain at the Tabard.
—Lori Tripoli