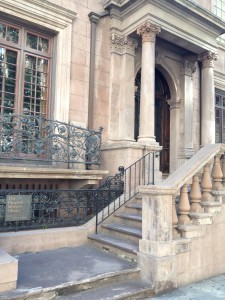 The Bonus Adventurers (teenage stepchildren) and I were drawn to the Morgan Library at 36th and Madison because of the Edgar Allan Poe exhibit (through Jan. 26, 2014). Who wouldn't want to see handwritten scrolls of Poe's handiwork? What we most enjoyed were working drafts. The kids marveled at what writers had to do in the days before cut-and-paste and smartphone to-do lists . Correspondence—especially with New York Tribune owner Horace Greeley, a fixture in our home region in Northern Westchester—was entertaining, too. Poe didn't hesitate to send strongly worded messages even when he had time to think about them.
The greatest delight about the library, though, is Pierpont's personal office, with its ceiling brought from Florence, heavy furniture, and fireplaces. His is an intimidating presence even a century after his death. The library itself, with floor-to-ceiling books and a very grand fireplace, is marvelous. I could spend hours there just looking at the old editions and gazing at special items on display. Having been, we appreciate more now bibles handwritten by monks. The kids liked seeing a letter written by George Washington rejecting the presidency. I admired Queen Elizabeth I's elaborate signature.
Even with all of the material on Poe, though, we still want to learn more about this mysterious, challenged, brilliant writer.
­—Lori Tripoli