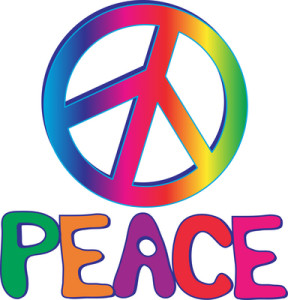 Watching Peace, Love & Misunderstanding (2012), I remember how I'd like my ideal life to be, full of Jane Fonda as a hip grandmother, happily cluttered houses fostering free-range chickens, and women with whom to howl at the moon whenever it happens to be full. I wonder whether I'd be as uptight as Catherine Keener is as Jane Fonda's lawyerly daughter who's headed home to mama, teenagers in tow, after splitting up with her husband and, viewers hope, with her former life.
The Woodstock, N.Y. to which she returns is pretty much how I'd like Woodstock to be, and how it largely is. I adore the irreverent signs, I embrace the small-town entrepreneurs, I love seeing old VW bugs reborn as street art. I lust for all of the peasant skirts I find here, and delight in everything that is locally grown, or regionally crafted. I enjoy seeing the old hippies, pay my respects to Levon, am glad that somewhere, here, people are still sticking it to the man.
Every time I visit Woodstock, I am reminded to be true to myself—something that can be hard on days when I'm told by corporate America that drug tests for writers are necessary; on days where bosses maintain that even though half the staff was laid off, the workload for the remainder hasn't increased at all so, no, there won't be any raises; in moments where some massive entity's fiscal bottom line always seems to be more important than the people that foster its existence. Some days I crave Jane Fonda as grandma in a crazy, cluttered house, with a crazy, artistic life.
Every time I visit Woodstock, I am a little bit more empowered. I always find myself humming that old Springsteen tune, "Growing Up." ("I hid in the clouded wrath of the crowd, but when they said 'sit down,' I stood up….") Every time I visit Woodstock, I am reminded not to hide. I remember to stand up. And then I head back home and pray that I keep doing it.
If you need a dose of Woodstock and can't get there soon, rent Peace, Love & Misunderstanding. It's not a perfect film, but its setting is.
—Lori Tripoli
~Advertisement~
~Advertisement~